Events Diary:
DIARY OF EVENTS 2021
I will be opening my studio to the general public on 26/27 June, and 3/4 July as part of the Peterborough Open Studios www.paos.org.uk, also in September as part of Rutland Open Studios (dates to be confirmed)
Other exhibition dates for 2021 at galleries/venues yet to be confirmed
During the Covid 19 Pandemic
I have a selection of cards, prints and originals for sale through the various outlets, or from me directly. I can see clients at my studio in a Covid safe manner, abiding to social distancing guidelines.
Gallery Stamford
3 Maiden Lane,
Stamford
Lincs
PE9 2AZ
Tel 01780 753737
www.gallerystamford.co.uk
Gallery 6
6 Stodman Street
Newark
NG24 1AN
www.gallery6newark.co.uk
Duncan R Miller Fine Arts
6 Bury Street
St James's
London
SW1Y 6AB
020 7839 8806
www.duncanmiller.com
Hunters Interiors
Deeping Road
Casewick
Stamford
01780 757946
www.huntersinteriorsofstamford.co.uk
Cards are available to purchase at;
Rasells Nurseries, Little Bytham, Stamford
Rutland Water Garden Nursery, Lyndon Road, Manton, Oakham
Collyweston Village Shop
JANUARY 2018
17 - 21 JANUARY
LONDON ART FAIR -Exhibiting with Duncan R Miller Fine Arts.
Business Design Centre,
52 Upper Street, London N1 OQH
Original paintings on show at Robert Fogell's Gallery, 22 High Street St Martin's, Stamford
March 2018
8 - 11 March
AFFORDABLE ART FAIR, Battersea, London - Exhibiting with Duncan R Miller Fine Arts of St James's, London
April & May 2018
Paintings for sale at Robert Fogell Gallery and Duncan R Miller
June 2018
Rutland and Peterborough Open Studios 2018
My home studio will be open on the following dates as part of Rutland Open Studios:
2/3, 16/17, 23/24 June. Open 11am- 4pm or by appointment.
At: Lavender Cottage, 8 Redmiles Lane, Ketton, Stamford PE9 3RG
July 2018
I will be running various Children's Summer Workshops - please contact me via this website for details.
August 2018
30th Aug- 2nd September 2018
I will be showcasing my latest prints and originals at Burghley Horse Trials, Burghley House, Stamford.
You will find me in the Rural Craft Pavillion by the Food Hall.
September 2018
6th - 9th September 2018
Art 4 Africa Exhibition
At The Old Chapel House, Riseley Road, Keysoe, Bedford MK44 2HT
9am - 5pm
01234 708656 [email protected]
2017
I have original paintings for sale through Duncan R Miller Fine Arts, 6 Bury Street, St James's, London SW1Y 6AB Telephone 020 7839 8806 www.duncanmiller.com
Robert Fogell Gallery, 22 High Street St Martin's, Stamford PE9 2LA Tel 01780 762099 www.robfogell.co.uk
Cambridge Contemporary Art, 6 Trinity Street, Cambridge CB2 3QN Tel 01223 324222 during November 2017 www.cambridgegallery.co.uk
I can be contacted directly on 07961 608172 regarding commissions and arrange appointments at my studio at North Luffenham, Rutland by prior arrangement.
DECEMBER 2017
26th - 24th
Mixed Christmas Show - Cambridge Contemporary Art, Trinity Street, Cambridge CB2 3QN
23 Nov - 21 Dec
Contemporary Exhibition - Duncan R Miller Fine Arts, Bury Street, St James's, London SW1Y 6AB
Original paintings also on show at Robert Fogell Gallery, 22 High Street St Martin's, Stamford PE9 2LA 01780 762099
NOVEMBER 2017
4th - 26th
Winter Show - Landscapes
Cambridge Contemporary Art, 6 Trinity Street, Cambridge
SEPTEMBER 2017
13th - 17th
BRITISH ART FAIR, The Mall Galleries, London
Exhibited by Duncan Miller Fine Arts of St James', Bury Street, London
AUGUST / SEPTEMBER 2017
31st August to 3rd September (08:30 - 18:00)
LAND ROVER BURGHLEY HORSE TRIALS, STAMFORD, LINCS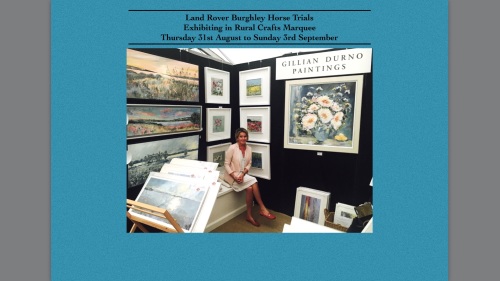 JULY / AUGUST
22nd July - 12th August
Summer Exhibition
Rob Fogell Gallery, Old North Road, Stamford, LINCS
JUNE 2017
Open Studio, Lavender Cottage, 8 Redmiles Lane, Ketton, Rutland, PE93RG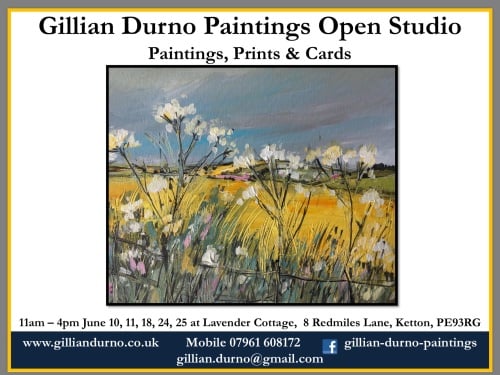 2 - 25th June (Tuesday - Sunday 10:00 - 16:00)
LOCAL SCENES BY LOCAL ARTISTS EXHIBITION
North Street East Gallery, Uppingham (Tel 07850 936147)
MAY 2017
1 - 14th May
Welland Valley Art Society Exhibition
MARCH 2017
9 - 12th March
Affordable Art Fair, Battersea. Exhibiting with Duncan Miller Fine Arts. www.duncanmiller.com
JANUARY 2017
18 - 22nd January
London Art Fair, Business Design Centre, Islington N1
Exhibiting with Duncan Miller Fine Arts. Stand 17
---
PAST EVENTS
2016
10 - 13 March - Affordable Art Fair, Battersea. Duncan Miller Fine Arts
9 April - Painting demonstration at Itch, Mill Street, Oakham as part of good galleries day
2-14 May - Welland Valley Arts Society, Spring Exhibition, Stamford
5 June - The Rutland Show, Burley Park Way, Oakham LE15 6US
16-19 June - Affordable Art Fair, Hampstead. Duncan Miller Fine Arts
18 - 26 June - Rutland Open Studios 2016
25 - 26 June - Peterborough Open Studios 2016
8 - 16 October - Exhibition at the Guildhall, Leicester to commemorate the 60th anniversary of The Wildlife Trust
2015

January 2015 - Group exhibition of paintings at Cambridge Contemporary Arts, Trinity Street, Cambridge
14th March - April 25th - Arts for Rutland Exhibition, Rutland County Museum, Oakham
25th April - May 9th - Welland Valley Arts, Spring Exhibition, Stamford
6/7/13/14/28 June - Rutland Open Studios 2015
27 June - 12 July Lights, Prisms and Rainbows Exhibition at Art in The Heart, Bridge Street, Peterborough
27 June - 12 July Affordable Art Fair, Hampstead. Duncan R Miller Fine Art
9 - 13 September 20/21 British Art Fair, Royal College of Art, Kensington Gore, London. Duncan R Miller Fine Art
5 - 17 October Welland Valley Arts Autumn Exhibition, Stamford
31 October - 28th November Mixed Exhibition at Cambridge Contempoary Art, 6 Trinity Street, Cambr